drone footage: Drone Media Studio (HU), animation: Effi & Amir
TALOS
What kind of choreography arises in the proximity of borders? Which strategies of restriction define movement? Zaides' new work sets out to explore a dynamic system of action and reaction, limitation and transgression, stasis and mobility. The work is a response to TALOS, an EU-funded initiative that designed an advanced system for protecting European land borders. TALOS was a collaborative project between ten countries that was officially conducted between the years 2008-2013. It resulted in a demonstration of a surveillance system that could be deployed in a matter of hours at any location. The system included mobile, semi-autonomous robots that patrol border areas and gain physical and performative presence.
For the TALOS project, Zaides put together a team of choreographers, dramaturges, video artists, and robotic experts. Since 2016, the team has been developing a keynote presentation that references the original project.
Credits & Collaborators
Team
Claire Buisson, Simge Gücük, Jonas Rutgeerts, Nienke Scholts, Effi & Amir, Arkadi Zaides , Culture Crew, Youness Anzane
Footage
Drone Media Studio (HU)
Co-produced by
Les Subsistances (FR), La Maison de la Danse (FR), K3 - Zentrum für Choreographie, Tanzplan Hamburg as part of Together Apart project, funded by the German Federal Cultural Foundation (DE), TanzQuartier Wien (AT), NEXT Arts Festival, Lille-Kortrijk-Tournai (BE-FR), CSS, Villa Manin (IT) , CDC Toulouse (FR), Wiesbaden Biennale (DE), Teaterhuset Avant Garden (NO), CCNN – Centre Chorégraphique National de Nantes (FR)
Residency support
Kunstenfestivaldesarts (BE), O Espaço do Tempo (PT), STUK (BE)
With the participation of
DICRéAM
With the support of
Transfabrik Fund - the Franco-German Fund for performing arts
Institut des Croisements - Arkadi Zaides is supported by
French Ministry of Culture and Communication - DRAC Auvergne Rhône-Alpes
10—11 June 2017
Exclusive Access, Symposium, Research Pavilion, Venice Biennale, Venice, Italy
Usages Géopolitiques Des Images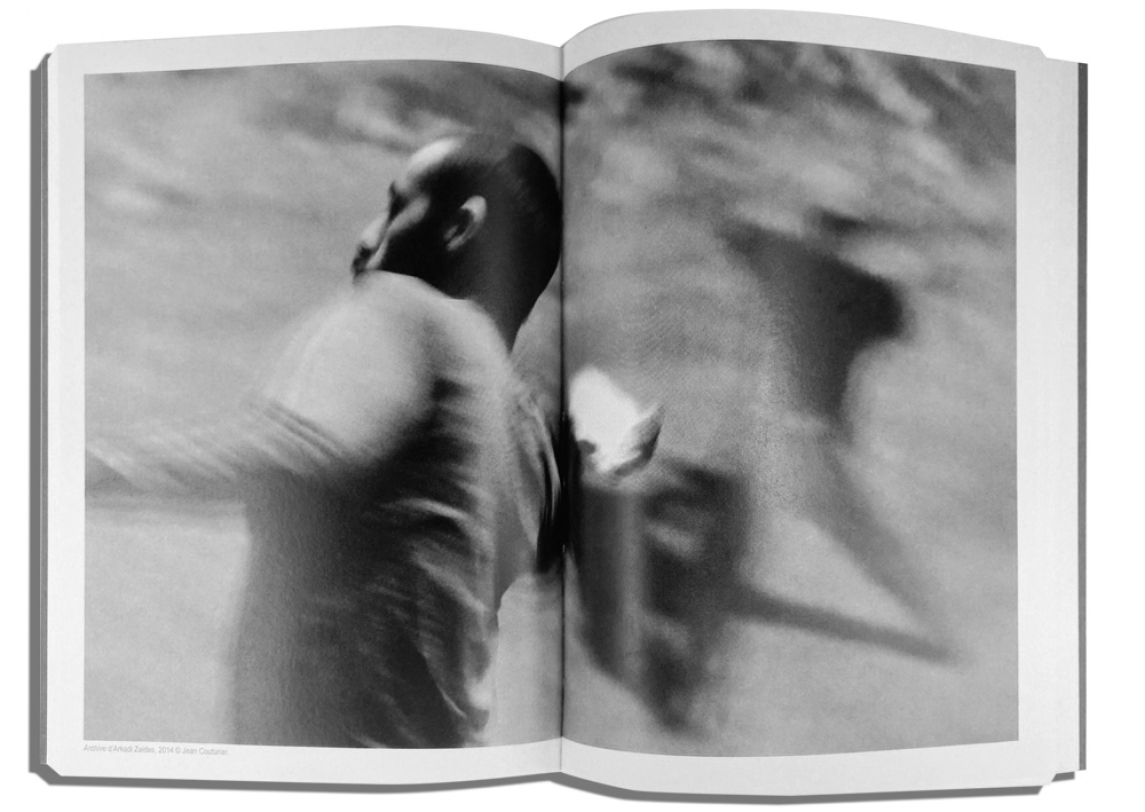 What influence do images have on migration policies? How do dictatorial regimes produce their imagery? Is there an ethical way to document war zones? USAGES GÉOPOLITIQUES DES IMAGES is a new publication that sets to examine these issues through the works of various contemporary artists. The book compiles the writing of twelve contributors, among them is Frédéric Pouillaude, whose essay examines Zaides' practice over the past years.
→
30 August—2 September 2017
15 June—15 September 2017